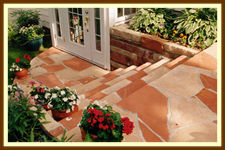 I have been working with stone for the past 25 years. It has been my passion since my arrival to the Perth area in 1972. I apprenticed with a German master stone mason for several years before striking out on my own.
I work creatively with natural stone and specialize in restoration work, although I especially love the challenge of new stone work.
If you have a project that you want done with integrity and skill, please contact Don Hanam.
The Perth Courier recently featured Don in a special Home Improvement Guide. Read the article.